Online ordering is not available at this time. For further assistance please contact our office directly at 780-435-3551 or toll free 1-866-664-0924. We can also be contacted at canteen.edmonton@compass-canada.com
Whether you lease, own or have on loan ...
If it's yours, theirs or ours ...
WE WILL REPAIR IT!
Starting up and providing an equipment solution that best suits your needs is only the beginning. At Brazilian it is our commitment to provide ongoing worry free service.

CALL US FOR A FREE ESTIMATE
Fast Service
Every Time!
We understand the importance of your business so we will have you up and running in no time
Loaner equipment available. (Some restrictions apply).
Fixed right the first time
We understand the need to have your equipment in top condition and our trusted, trained and professional technicians prioritize these needs. Whether you lease, own or have on loan, full cleaning and repair services are available. Fast, clean and reliable, we have you covered.
Fully Trained
Experienced Technicians
Our technicians are certified which means it will be fixed right, fixed fast and fixed the first time
Years of field experience
Repairs on most food service equipment
Installation and repair services including plumbing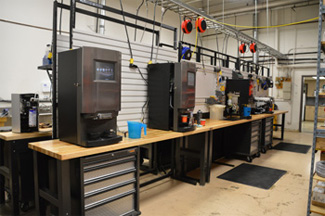 All Brands,
All Makes, All Models
We repair all brands of equipment
Yours, ours or theirs
Hot and cold beverage
Repairs on most food service equipment